The Sporting Breeds
Lagotto Romagnolo
The Lagatto Romagnool, Italy's adorable 'truffle dog', sports a curly coat and lavish facial furnishings. Despite their plush-toy lood, Lagotti are durable workers of excellent nose who root out truffles, a dainty and pricey delicacy. Italians have a word for it:'carino'. In English, we say 'cute.' In ay language, this breed is totally endearing. The Lagotto Romagnolo (plural: Lagotti Romagnoli) is known for wooly curls that cover the body head to tail, crowned by a lavish beard, eyebrows and whiskers. Lagotti stand under 20 inches and weigh no more than 35 pounds. But don't be fooled by their teddy-bear looks, these are rugged workers of true strength and endurance. the breed's trademark curls feel and behave more like human hair than fur.
A Look Back
Lagotti go back to at least Renaissance Italy, where they were bred as waterfowl retrievers working the marshlands of Ravenna. "Lago" is Italian for "lake."
Nederlandse Kooikerhondje
The Nederlandse Kooikerhondje is lively, agile, self-confident, good-natured and alert. The breed is faithful, easy-going and friendly in the home. Outdoors he is a true sporting dog being
keen, swift, tough, attentive and energetic. With sufficient perseverance and stamina, he enjoys working and does so with a cheerful character.
The Kooikerhondje (Koi-ker-hond-yuh)'the 'little white and orange dog with a big heart' is a sporty, eye-catching fellow with a silky all-weather coat of white with red patches. They are instantly recognizable thanks to their large, black-tipped ears and the richly feathered tail they wag proudly. The breed has the sturdy bone structure expected of a serious hunter, but the overall picture is that of a harmoniously built dog of smooth, flowing contours and springy gait. The Nederlandse Kooikerhondje Club of the United States has served as the AKC Parent Club to represent the Kooikerhondje since April 2014.
A Look Back
The Nederlandse Kooikerhondje is a very old breed, appearing in paintings by the Dutch masters back into the late Middle Ages. The breed was used in the "Eendenkooi" the manmade duck-trapping pond systems, beginning prior to the invention of gunpowder. These "Duck Decoys" – as they were called in English – are not to be confused with carved wooden faux ducks, but were instead hand-dug ponds ranging from 3 to 10 acres in size. The breed was also associated with the founder of the Dutch Monarchy, Prince William of Oranje, whose "Kooiker" Kuntz was credited with saving the Prince's life when assassins sought to kill him.
Nova Scotia Duck Tolling Retriever

Medium sized, powerful and compact, the Nova Scotia Duck Tolling Retriever is the smallest of the retrievers. He developed in the early 19th century to toll, lure, and retrieve waterfowl. The playful action of the Toller retrieving a stick or ball along the shoreline arouses the curiosity of the ducks offshore. This lures them within gunshot range, and then the dog is sent out to retrieve the dead or wounded birds. Their water-repellant double coat is any shade of red, often with white markings.

A Look Back
There is no authentic record of the development of the Toller, but present day thinking is that the basic stock was the red decoy dog, probably brought to Nova Scotia with the early settlers from Europe. Crosses with other breeds, possibly spaniel and setter-type dogs, retriever-type dogs, and farm collie, produced today's Toller. Originally known as the Little River Duck Dog after the district of Yarmouth County, or as a Yarmouth Toller, the Toller has now bred true for generations.

Right Breed for You?
Highly intelligent, alert and outgoing, the Toller is normally ready for action, desiring a job to do or some kind of activity. He is affectionate and loving with family members and is good with children, showing patience. A natural-looking breed, the Toller does not require much coat maintenance beyond occasional brushing and baths.
Pointer
A hard-driving hunting dog possessing stamina, courage, and the desire to go, the Pointer is bred primarily for sport afield and definitely looks the part. He gives the impression of power and grace, with a noble carriage, an intelligent expression and a muscular body. His short coat can be liver, lemon, black, and orange; either in combination with white or solid-colored.
A Look Back
Pointers first appeared in England around 1650 and were the first breed used to stand game. Before wing-shooting with guns became popular, Pointers were often used to locate and point hares in conjunction with Greyhound coursing. The Pointer's lineage is foggy, but there is no question that it includes Foxhound, Greyhound, and Bloodhound crossed with some sort of "setting spaniel," which played an important part in the creation of all modern bird dogs.
Right Breed for You?
The Pointer's even temperament and alert good sense make him a congenial companion both in the field and in the home, but he requires both physical and mental exercise. He should be dignified, but should never show timidity toward man or dog. The breed's short coat is easy to care with minimal effort.
Spinone Italiano
An excellent retriever by nature and an experienced hunter on any terrain, the Spinone is robust, sociable and docile. His wiry, dense coat and thick skin enable him to negotiate underbrush and endure cold water that would severely punish any dog not so naturally armored. The coat can be solid white; white and orange; orange roan with or without orange markings; white with brown markings, brown roan with or without brown markings.
A Look Back
The Spinone Italiano, or Italian Pointer, is Italy's all-purpose hunting dog. The dog is a Pointer of the old school, that is, a rather slow-footed dog similar to those used before the era of wing shooting. It is estimated to be a cross of coarse-haired Italian Setters, bred with those left by Greek traders and others from the Adriatic coast, in addition to crosses with the White Mastiff and perhaps French Griffons.
Right Breed for You?
An active, energetic breed, the Spinone loves to romp in the field, but is happy as long as it's with its family. As a naturally cautious dog, owners should socialize the breed and begin training early. The Spinone is the ultimate wash and wear breed and should remain in a natural state, with just occasional brushing and hand-stripping. Owners beware, however – after a drink, their wet and messy beard may leave trail of water wherever they go!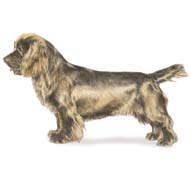 Sussex Spaniel
Although the Sussex Spaniel originated centuries ago, the breed's appearance has remained virtually unchanged still today. The Sussex possesses a rich golden liver coat unique to the breed, and has a long, low and somewhat massive body. Although not as fast as other Spaniel breeds, the Sussex has a great nose and is well suited for working through dense underbrush on the hunt.
A Look Back
While the Sussex Spaniel was one of the original nine breeds recognized by the AKC in 1884, it has actually existed as a breed for much longer. It originated in the 18th century in the county of Sussex, England, where it was used as a field dog. At that time, the custom of hunting on foot made the Sussex a popular hunting companion and very useful in flushing and retrieving upland game.
Right Breed for You?
Despite its somber and serious expression, the Sussex is friendly, with a cheerful and tractable disposition. They enjoy walks with their families and are good with children and other dogs. The Sussex requires weekly brushing, with special attention paid to anything that might have gotten caught in their long, thick ear hair. Owners should also be prepared for a large quantity of drool.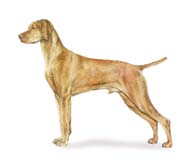 Vizsla
Originally from Hungary, the Vizsla is a medium-sized, short-coated hunting dog that is essentially Pointer in type, although he combines characteristics of both pointer and retriever. An attractive golden rust in color, this "dual" dog is popular in both the field and the show ring due to his power and drive while hunting and his trainability in the home.
A Look Back
The Vizsla's ancestors were hunters and companions for the Magyar hordes, a tribe that settled in what is now known as Hungary. A favorite of early barons, Vizslas are depicted in etchings as far back as the 10th century.
The agricultural terrain of Hungary created a dog of superior nose and high-class hunting ability well-suited to Hungarian climate and a variety of game, including upland game, rabbits and waterfowl. Nearly extinct by the end of the World Wars, the Vizsla gradually regained popularity and began to be imported into the United States in the 1950s.
Right Breed for You?
The Vizsla thrives as part of an active family that provides daily exercise. He is lively and affectionate to his people, and possesses an above-average ability to take training. Although he sheds, his short coat requires low daily maintenance.
Weimaraner
Often referred to as the "grey ghost" because of the distinctive color of its short, sleek coat, the Weimaraner is a graceful dog with aristocratic features. Bred for speed, good scenting ability, courage and intelligence, he remains an excellent game hunter and active participant in other dog sports.
A Look Back
Originally known as the Weimer Pointer (derived from the court that sponsored the breed), the Weimaraner is a product of selective German breeding and comes from the same general stock as other German hunting breeds. It is believed to be a descendant of the Bloodhound and was originally used to hunt wolves, deer and bear. Over the years because of the rarity of bigger game in his surroundings, the Weimaraner adapted to become a bird dog and personal hunting companion.
Right Breed for You?
Lauded for his ability to work with great speed, fearlessness and endurance when on the hunt, the Weimaraner is also known for being an easily trainable, friendly and obedient member of the family. This is a breed that loves children and enjoys being part of his family's "pack." Grooming maintenance is low due to his short coat.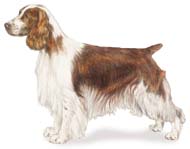 Welsh Springer Spaniel
A compact dog built for hard work, the Welsh Springer Spaniel is a distinct breed, not a variety of the English Springer Spaniel. With his excellent nose and slightly webbed feet, the breed is a versatile hunter, water dog and retriever. Their trademark coat is a striking red and white in color.
A Look Back
During the Renaissance, the "Land Spaniel," a Welsh Springer-type dog with red and white markings, was used for retrieving, and tapestries of the time depict a dog very similar to the Welsh. Originally, he was bred to spring game toward a net or into the air prior to the invention and common use of the gun. Although the breed was fashionable with the nobility in the 1700s, the English Springer Spaniel soon replaced it in popularity. A small group of breeders kept the breed from becoming extinct.
Right Breed for You?
Active, loyal and possessing an even disposition, the Welsh Springer Spaniel is an excellent companion for families and hunters alike. The breed is a "velcro" dog and prefers to be with its people. Welsh Springers possess a stubborn streak, but respond well to training if it starts early. This athletic dog needs daily exercise and at least weekly brushing to maintain its coat.
Wirehaired Pointing Griffon
Medium sized and bred to cover all terrain encountered by the walking hunter, the Wirehaired Pointing Griffon has been called the "4-wheel drive of hunting dogs" as he will enter briars or underbrush without hesitation. Griffs excel equally as pointers in the field and as retrievers in the water. Their coarse double coat protects them in rough cover and gives them an unkempt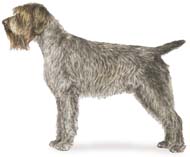 appearance. It can be a variety of colors, most often steel gray with brown markings.
A Look Back
Griffon-like dogs have existed throughout history, but exact origins are uncertain. The modern history of the breed, however, has been well documented. Dutchman Eduard Korthals was an avid hunter and desired a dog that could hunt over a variety of terrain, so he developed a breeding program to create a versatile new sporting breed. In less than two decades, Korthals had fixed the new breed he called the Wirehaired Pointing Griffon, wrote the standard and formed a Griffon club.
Right Breed for You?
The Griffon's easy trainability, devotion to family, and friendly temperament endear him to all. He thrives on human companionship and prefers to be house dog. The breed's wiry coat will not develop fully until the dog is about 2-3 years old and is maintained with regular brushing and stripping. This sporting dog needs plenty of exercise to keep it physically and mentally fit.
Wirehaired Vizsla
The Wirehaired Vizsla is an exuberant hunter on land or lake, whose dense, wiry coat distinguishes him from his close cousin, the Vizsla. Calm and gentle around the house, these upbeat Hungarians like running, swimming, and upbeat play. WVs are close relatives of Vizslas but a distinctly separate breed. The key distinguishing feature is coat type. Unlike the sleek Vizsla, WVs have a dense wiry coat, with a shaggy beard and eyebrows setting off a bright, lively expression. Both Vizsla breeds are classified as medium-sized, but an ideal WV will stand a shade taller and be a bit heavier than his smooth-coat cousin. The two breeds share the same striking red coloring (golden-rust), with a nose and eyes that smartly complement the coat.
A Look Back
The origins of dogs developed in the 20th century are much better documented than older breeds, so we know in detail of how Wirehaired Vizslas were created in the 1930s. But here's the short version: Hungarian hunters and falconers wanted a dog with the same drive and versatility of their beloved Vizslas, but with a sturdier frame and a denser coat, the better to work on punishing terrain and in the cold weather of northern Hungary. They achieved this by judicious crosses of Vizslas and German Wirehaired Pointers.
(breed information from the AKC website)