The Sporting Breeds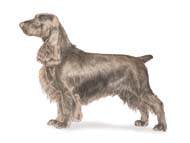 Field Spaniel
Known for its level-headedness and perseverance, the Field Spaniel is a medium-sized flushing spaniel, built for activity and endurance in heavy cover and water. One of the rarest spaniel breeds (they nearly went extinct!), the Field possesses moderately long, pendulous ears and a single coat that is both dense and water-repellent. He can be black, liver or golden liver in color; tan points or white markings are acceptable.
A Look Back
The Field Spaniel originated in England in the mid-1800s and was used to find, flush and retrieve both fur and feather from land and water. The breed was introduced to America in the 1880's but did not become a distinct breed from Cockers until the 20th century, when it was decided that anything above 25 pounds qualified as a Field Spaniel (the larger of the two types of land spaniel).
Right Breed for You?
A docile and fun-loving companion, the Field Spaniel sticks close to his family and wants to participate in any and all family activities. They may be initially reserved when meeting strangers, but quickly warm up to people. They require regular walks, but their medium-length coat (less than other Spaniel breeds) makes grooming fairly easy, requiring only weekly brushing and occasional trimming.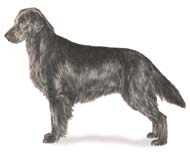 Flat Coated Retriever
Although his tail never stops wagging, the Flat-Coated Retriever is suited for hard work. Originally bred to flush and retrieve both upland game and waterfowl, he transfers his determination, desire and verve on the hunting field to everyday life, enthusiastically participating in family activities and in the show, obedience and agility rings. Slightly racier and more moderate in bone than other retriever breeds, the Flat-Coat has a solid black or liver-colored coat that protects him from the elements and lies straight and flat.
A Look Back
The Flat-Coat's ancestry includes the "Retriever Proper," a cross-breed emerging from the Large Newfoundland, setter, sheepdog, and spaniel-like water dogs. These retrievers were invaluable to fishermen and often traded between Britain and North America, where they became known as generic "Labrador" dogs. Eventually, a breed known as the Wavy-Coated (subsequently Flat-Coated) Retriever appeared and became distinct to these "Labrador" dogs.
Right Breed for You?
Described by all who meet him as cheerful, optimistic and good-humored, the Flat-Coat excels as a family companion. He requires regular vigorous exercise, however, due to his working heritage. Dog sports such as obedience, agility and hunt tests provide both mental and physical exercise. Among Sporting breeds, the Flat-Coat is easy to maintain, needing only occasional brushing and bathing.
German Shorthaired Pointer
A versatile hunter and all-purpose gun dog, the German Shorthaired Pointer possesses keen scenting power and high intelligence. The breed is proficient with many different types of game and sport, including trailing, retrieving, and pointing pheasant, quail, grouse, waterfowl, raccoons, possum, and even deer. A medium-sized breed, he has an aristocratic bearing and can be solid liver or liver and white in color.
A Look Back
The origin of the German Shorthaired Pointer is not clear, but the source of the breed seems to have been the German Bird Dog, related to the old Spanish Pointer, and various crossings with local German scent hounds and track and trail dogs. When the Germans introduced the English Pointers to lend elegance to the German Shorthaired Pointer prototype, the result was a utility dog that combined sporting virtue with clean lines, good looks and sound temperament.
Right Breed for You?
The German Shorthaired Pointer thrives as part of an active family. He is an even-tempered, intelligent and loyal family watchdog that has enthusiasm for its work. An athlete, he can adapt to his living situation, but requires consistent exercise. The GSP's short coat sheds, but grooming is minimal.
German Wirehaired Pointer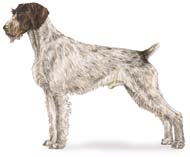 When the Germans wanted a dog that could do it all, they created the German Wirehaired Pointer, a versatile, multi-purpose hunting dog. Strong and medium-sized, with a typical Pointer personality, the breed's most distinctive feature is its functional wiry coat. Weather resistant and water-repellant, the outer coat is straight, harsh, wiry and flat lying, which helps to protect the dog against rough cover while hunting. The coat must be liver and white in color.
A Look Back
Most of the early wirehaired Pointers represented a combination of Griffon, Stichelhaar (both mixtures of Pointer, Foxhound, Pudelpointer, and Polish water dog), Pudelpointer (a cross of Poodle and Pointer) and German Shorthair. The Germans continued to breed the distinctive traits of Pointer, Foxhound, and Poodle until they had created what is today the German Wirehair, a constitutionally tough, courageous breed who points and retrieves equally well on land and in water.
Right Breed for You?
Loyal and affectionate, the German Wirehaired Pointer craves human companionship and bonds closely with its "people." A high energy and high drive breed, the Wirehair must receive regular exercise or have a job to do; otherwise their creativity and independence may get them into trouble! Although they shed lightly year-round, Wirehairs with a correct coat require only minimal grooming.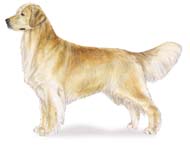 Golden Retriever
The Golden Retriever, with its intelligence and eager to please attitude, is one of the most popular breeds in the United States according to AKC® registration statistics. The working ability that has made the Golden Retriever such a useful hunting companion also make him an ideal guide, assistance and search and rescue dog. The golden-colored coat is the hallmark of this versatile breed, and can range from light to dark gold.
A Look Back
The Golden Retriever originated in the Scottish Highlands in the late 1800s and was used predominantly for hunting. The breed was developed by Lord Tweedmouth, whose goal was to create a superb retriever suited to the Scottish climate, terrain and available game. He crossed his original "Yellow Retriever" with the Tweed Water Spaniel (now extinct) found on his estate. Later integrations of Irish Setter, Bloodhound, and more Tweed Water Spaniel produced the retriever we know today.
Right Breed for You?
This active and energetic Sporting breed can adapt to many different living situations but requires daily exercise. His water-repellant double-coat sheds seasonally and needs regular brushing. With his friendly temperament and striking golden color, this breed is both beautiful to look at and a joy to own.
Gordon Setter
The heaviest of the three setter breeds, the Gordon Setter was originally bred as a personal bird dog, but they are equally at home as companion dogs, obedience competitors and show dogs today. Sturdy and muscular, the Gordon suggests strength and stamina rather than extreme speed while on the move. The breed's distinctive black and tan coat allows it to be found easily in light fields and early snow.
A Look Back
The Gordon hails from Scotland, and his ancient lineage traces back to the early 17th century. Popular among hunters of Scotland, the black-and-tan Setter came into prominence in the kennels of the fourth Duke of Gordon in the early 19th century. As field trials became more popular, the Gordon's popularity waned in favor of Pointers and other flashy, fast breeds, but the breed remained unparalleled as a one-man shooting dog.
Right Breed for You?
Alert and confident, the Gordon Setter is devoted to his family. Although they are bright, they are not blindly obedient, so may appear stubborn. Gordons are capable of adapting to a variety of living situations, but need plenty of daily exercise on leash or in a fenced area. Regular grooming is also necessary to prevent matting.
Irish Red and White Setter

Despite its name, the Irish Red and White Setter is a distinct breed, not just a different colored version of the Irish Setter. Bred primarily for the field, they should be strong, powerful and athletic, with a keen and intelligent attitude. The coat's base color is white with solid red patches.

A Look Back
Known in Ireland since the 17th century, the Red and White is thought to be the older of the two Irish Setters. However, due to the overwhelming popularity of its solid red cousin, and separate breeding of the two breeds, the Irish Red and White Setter was nearly extinct by the end of the 19th century. During the 1920s, efforts were made to revive the Irish Red and White Setter and by the 1940s, the breed began to reemerge in Ireland.

Right Breed for You?
Courageous, spirited and determined, the breed's energy in the field carries over to the home, so Red and White Setters require regular exercise. Their kind and friendly attitudes make them great family dogs. They need minimal brushing or trimming – owners prize a natural appearance and the breed tends to carry less coat than the Irish Setter.
Irish Setter
One of the most distinctive Sporting breeds, the mahogany red Irish Setter is an active, aristocratic bird dog. Originally bred to be red and white, the solid red color appeared in Ireland the 19th century and became a mark of quality and superior sporting ability. Over two feet tall at the shoulder, the Irish is known for his style, powerful movement and clown-like personality.
A Look Back
The Irish Setter became popular in the 18th century throughout Ireland and the British Isles. Developed from a mix of Irish Water Spaniel, Irish Terrier, English Setter, Spaniel, Pointer, and a dash of Gordon Setter, the breed was originally used to "set" game, crouching low near the birds so that the hunters could walk up and throw a net over bird and dog. When firearms were introduced, the Irish adapted into a gun dog that pointed, flushed and hunted in an upright stance.
Right Breed for You?
A rollicking breed, the Irish Setter is high-energy and requires regular exercise. His outgoing and stable personality make him a favorite with families. Their long, glossy red coat, although beautiful, must be groomed regularly to prevent snarls or mats.
Irish Water Spaniel
The clown of the spaniel family, the Irish Water Spaniel will think of creative ways to accomplish even the slightest of tasks. Strong and intelligent, the tallest spaniel breed possesses several unique characteristics – its liver-colored curly coat and signature "rat tail." The water-repellant double coat consists of dense, tight ringlets with a topknot of long, loose curls and a smooth face. The "rat" tail is thick and covered with curls at the base, tapering to a fine point covered with short, smooth hair.
A Look Back
A dog of ancient lineage, there is evidence of Irish Water Spaniel-type remains going back as far as the 7th and 8th centuries AD. In the late 1100's, dogs found in southern Ireland below the River Shannon were called Shannon Spaniels, Rat-Tail Spaniels or Whip-Tail Spaniels, among other things. Records document the "Water Spagnel" with "long, rough, curled hair and a tail somewhat bare and naked." Today's IWS is a true dual-purpose hunting dog, as qualified with upland game as with waterfowl.
Right Breed for You?
A typical Sporting dog, the Irish Water Spaniel is an active and energetic companion. He possesses the natural instinct to please, making him relatively easy to train, but regular exercise is important. Suitable for allergy sufferers, their hypoallergenic coats require brushing every few weeks and trimming every two months to neaten and shape the coat.
Labrador Retriever
The gentle, intelligent and family-friendly Labrador Retriever from Canada continues to be the most popular breed in the United States, according to AKC® registration statistics. This versatile hunting breed comes in three colors – yellow, black and chocolate – and because of his aptitude to please his master they excel as guide dogs for the blind, as part of search-and-rescue teams or in narcotics detection with law enforcement.
A Look Back
Labrador Retrievers, originally from Newfoundland, were initially used in work alongside fisherman, helping to pull in nets and catch fish that escaped from fishing lines. After being crossed with Setters, Spaniels and other Retrievers, the Labrador Retriever honed its skills as a true retriever. From this point in the breed's history, "Labs," as they are affectionately called, were bred primarily to perform as an efficient retriever of game, with a stable temperament suitable for a variety of activities beyond hunting.
Right Breed for You?
An ideal sporting and family dog, the Labrador Retriever thrives as part of an active family or as a trusted hunting companion. A double-coated breed which sheds seasonally, regular grooming keeps his coat at its water-resistant best. Because of his even temperament and trainability millions of Americans own a Labrador Retriever as a pet.
(breed information from the AKC website)